Omegle had been a popular site for anonymous video chat as well as text chat. The main feature of the chat service provider is that your identity is kept anonymous and you do not have to register on the site. At the same time, another advantage of the site is that you can talk to a stranger.
But the site also comes with a disadvantage as the server doesn't provide any security and it has been reported that the website has also been used by predators as well and the warning is clearly stated on the home page of the application.
The video chat feature also offers complete anonymity to the user but as per the terms and conditions, a user can't resort to nudity or inappropriate behavior during the chat. If something like that happens, the user gets blocked. Since the user doesn't register for the site, the IP of the user is actually blocked by the community moderators.
It is not possible to monitor each and every chat hence the moderators use a set of complex algorithms to protect you from such cases. There had also been some cases when the person was blocked without any reason but most of the times there had been a violation of terms and conditions. For this, check out different methods to get unbanned from Omegle.
Steps to Send Feedback
Visit Omegle website and Navigate to bottom of the page.
At bottom of the page, you will find "Send Feedback to Omegle Staff". Click on the link, fill and feedback form and click on Send Feedback form.
It is important to ensure that you have mentioned you IP Address in the form.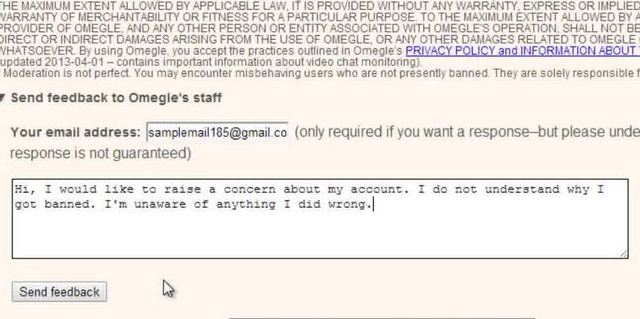 Note: The bad news is that Omegle has stopped accepting feedback or email from any user. Earlier, they had a link at a bottom of the page wherein the accepted feedback and they often used to unblock the users but at present, the link has been removed by the Omegle administrator and hence there is no way to get in touch with the administrators.
The best thing to do if you have been blocked is to use a VPN proxy sites to obtain a proxy IP and continue the use of the server.