Majority of Male users who visit omegle always wish to chat with stranger girls or strangers whose interests are similar to them. If you are one of those people, the omegle interests features is made for you.
How it works?
When you will enter your interests, a stranger having similar interest will be displayed for text chat or video chat. Suppose you have interest in "playing football", the people who have interest in football will be connected with you.
Advantage of adding Facebook with omegle
When you connect Facebook with omegle, it will fetch your likes from Facebook and display people who have likes similar to you. So its nice way to chat with people having similar interest to us.
How to use omegle interest feature?
Open www.omegle.com, at the middle of front page there is option to add you interest.
Add your some interest like watching tv, shopping, gym, chocolates etc. and click text or video chat button. Now strangers having above mentioned interest will be displayed.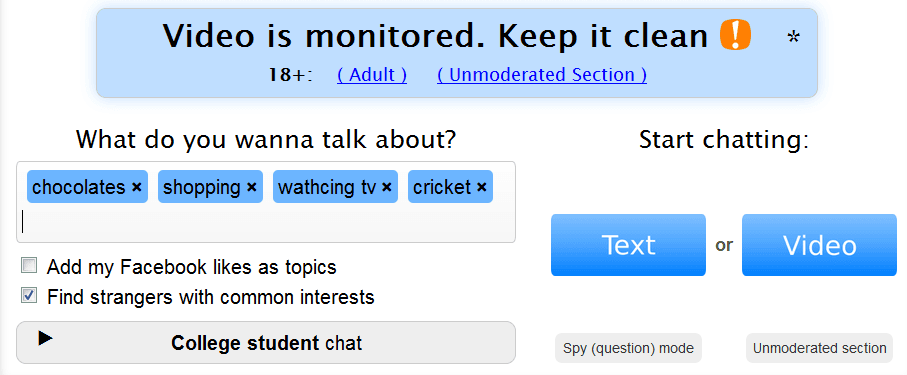 Trick to find Girls by using Omegle Interest
Adding female specific interest like "yoga", "watching tv", "dating", "shopping", "Fashion", "gossip"etc., increase your chances of being matched with female users.
Try to add area name to find girls from your area.
Connect omegle with girls Facebook profile, increases your chances to get girls on omegle.